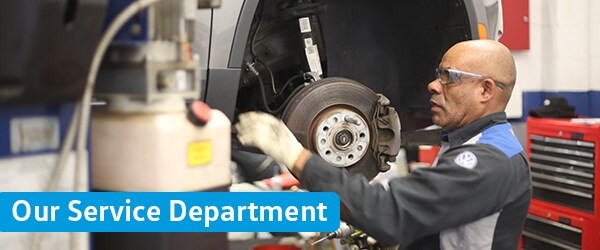 Welcome to the Service Department at Prestige VW of Stamford
Prestige VW of Stamford is ready to help you take care of your car, truck, or SUV right. We offer our very own service center with expert technicians, cutting-edge equipment, and amenities for your convenience.
We understand the importance of quality, dependable, timely maintenance for vehicles around Greenwich and beyond. It's our mission to provide the kind of quality repairs and services that local drivers need to keep their vehicles on the road longer. Whether you drive a VW or another brand, you can count on us to keep running smoothly.
Certified VW Service and Repairs
Our shop near Norwalk specializes in servicing VW cars and SUVs. Whether you drive a VW Jetta, VW Passat, or VW Atlas, we can confidently take care of its scheduled maintenance.
That confidence comes from a staff of certified VW technicians. Each member of our service team has gone through extensive training with VW maintenance for various models. They know when to provide different services, what parts go with which models, and how to use specific VW tools and equipment.
Routine Maintenance for Cars of All Kinds
It's not just VW vehicles that our service center can take care of -- our team can handle maintenance and repairs for other popular brands as well.
The Prestige VW of Stamford service staff works with well-rounded knowledge, experience, and training that allows them to serve cars, trucks, and SUVs of all kinds. You can bring your vehicle to us for basic maintenance that's done thoroughly and consistently.
Access a Wide Variety of Services
Local drivers near Fairfield, CT come to us to access a broad spectrum of services and repairs. From routine maintenance to diagnostics and demanding repairs, we can handle it all.
A large portion of the appointments at our shop revolve around routine maintenance. That is, the preventative services that are pre-scheduled in order to keep a vehicle running strong throughout its lifespan. Routine maintenance consists of some of the most common services:
Oil Change
Wheel Alignment
Tire Rotation
Battery Test
Brake Inspection
Fuel System Service
Engine Tune Up
Etc.
Save with Service and Parts Specials
Auto maintenance is a normal built-in cost for vehicle ownership and operation, but there are ways that you can cut down on the expenses when you work with Prestige VW of Stamford. We offer our own service and parts specials to help customers save on routine maintenance and repairs.
You'll find a variety of coupons, discounts, service bundles, and other opportunities here on our website. Each offer can help cut down on the cost of service center visits. We make sure to offer specials for a wide range of services and update the offers frequently, so you have new opportunities to save at different times.
Schedule Your Service Appointment Near Fairfield County
Ready to pay us a visit and take advantage of quality services? Call our staff and they'll help you plan your appointment ahead of time. We can answer any questions that you may have about routine maintenance, repairs, and parts as well.