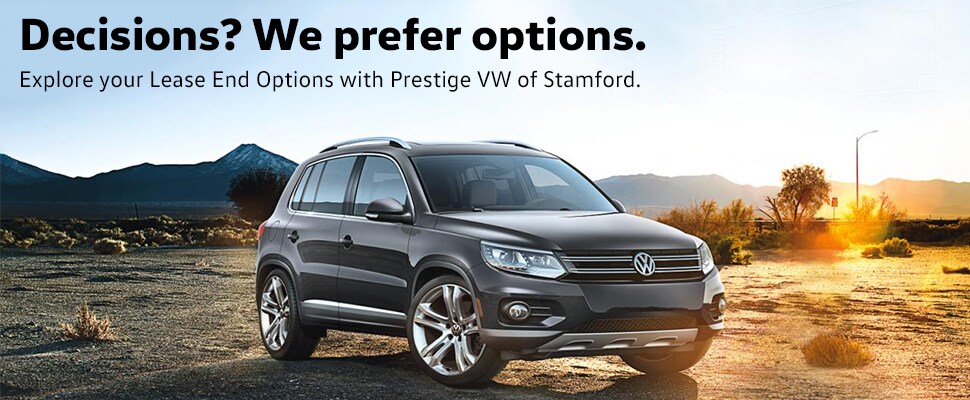 Lease-End Options for Your VW in Fairfield County CT
Drivers currently leasing a VW in Stamford have several options available to end your lease. Whether you're already approaching your lease-end date or you're considering ending your VW lease early, Prestige Volkswagen of Stamford is here to help you understand the benefits, drawbacks, and what options are available to you.
Top-Dollar Trade Options
Because your leased VW is a recent-year, low-mileage model, you can earn top dollar for returning your lease to our dealership in Stamford, CT. With pre-owned vehicle values at higher levels than normal, you've got a great opportunity to turn your leased VW into a payday. Whether you're jumping into a new VW or simply moving on, returning your leased VW offers a great opportunity to take advantage of these unusual market conditions.
Lease-End Options
Whenever you end your VW lease, you'll have three primary options available to you as you plan your next move.
Many drivers will choose to jump into another new VW model, and right now you can jump from a VW Jetta into a new VW Passat on lease with ease. When you choose this option, we'll take your history with VW financial and roll it into a new lease on your next vehicle for a quick and easy trade with less stress. Choose any of our new VW models including a VW Tiguan, GTI, or VW Atlas and get the VW experience you've always wanted with your new lease.
A second option is to continue driving your leased vehicle by buying out the lease. If you've fallen in love with your vehicle and want to keep it for a few more years, we'll work with you to determine the value of your leased VW and help you get the financing you need to buy it outright. Whether you do this with a cash payment or take out an auto loan for the remaining total, you'll be able to keep your current VW until you're ready to move on, all while building equity you can use as trade-in value down the road.
You can also choose to terminate your current VW lease and move on to another brand. We'll be sad to see you move on from our Fairfield County VW dealership, but regardless we'll help you navigate the lease end process and hope to see you again soon.
The Lease-End Process
No matter which lease-end option works for your lifestyle, you'll have to follow the same steps as your lease comes to a close.
Start 30 days before your lease-end date with a pre-inspection by our certified VW service team. They'll go over the vehicle to identify any areas of concern such as damage or excessive wear that may incur a lease-end penalty. In addition, we'll calculate your mileage to determine any possible mileage overages so you know exactly what to expect when you reach your lease-end date. This also applies to early-terminated leases, where the mileage allowance will be prorated to the shortened term of your lease.

Once you're through your lease-end inspection, simply schedule an appointment with our team to bring your leased vehicle in when your lease-end date arrives. If you're choosing a new VW to take home, we'll have that vehicle ready to go for a quick and easy swap from the old model to the new, saving you time and letting you get back on the road with your new VW ID.4 or Golf R quickly.
We make it easy to end your VW lease at our Stamford dealership, and we're here to help at every step of the way. Contact Prestige Volkswagen of Stamford to get started today!
Make an Inquiry