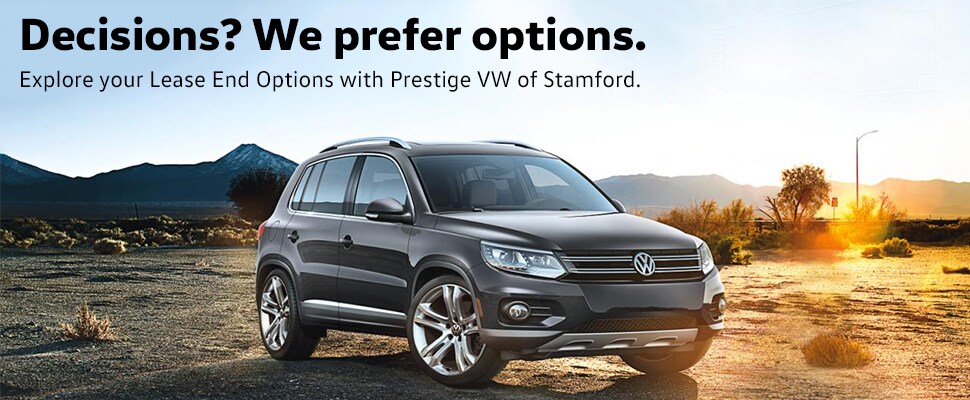 IT'S TIME TO PREPARE FOR THE LEASE END OF YOUR VOLKSWAGEN. 
Time flies when you're having fun, especially behind the wheel of a Volkswagen! Here you'll find what to expect as the end of your lease term draws near. We hope you've been enjoying your VW experience and that you'll consider leasing or purchasing another vehicle from Prestige VW of Stamford. 
We look forward to assisting you in making a smooth transition as you near the end of your lease. You have the option to purchase your current vehicle or get into your next VW.
SCHEDULE YOUR VEHICLE INSPECTION.
Let us help you with a pre-inspection evaluation. This pre-inspection offers you several important benefits:
Evaluate your vehicle of any excess wear and tear.
If there are unacceptable damages, you'll be informed right away, with plenty of time to have them repaired.
A pre-inspection virtually eliminates potentially costly surprises so that you'll know exactly what to expect when you do turn in your vehicle.
For more information, please contact us at 203-327-2500.

TURN IN YOUR VEHICLE AT PRESTIGE VW.
Once your inspection and desired repairs are completed, there's only one thing left to do - turn in your vehicle and make your move into a New or Certified Pre-Loved VW! Here's how:
Schedule a date with us to turn in your vehicle.
After you've returned your  vehicle, let us know by logging into vwcredit.com/accountadvisor to fill out our vehicle return form or by calling (800) 521-0171. You'll receive a final turn-in settlement invoice from us within a short period of time.
DRIVE ON.
Ready to enjoy your next VW? The VW lineup offers something for everyone - from compacts to sedans, wagons, SUVs, minivans and convertibles! To help with your VW search, visit our New and Pre-Loved inventory to find the latest special offers, build your next vehicle and schedule a test drive with your VW dealer.
Make an Inquiry